My Desk Setup
Whenever I post a picture of my desk, I get asked what's on it, so I thought I should write it all down!
First, here's a picture of the stuff on my desk -- I do a ton of video content, streaming,and podcasting, so I have a lot of gear. I want to say that this is just my setup -- it's taken years to build this up and is completely unnecessary for most people. I find reading other people's setups interesting, so I hope this is helpful!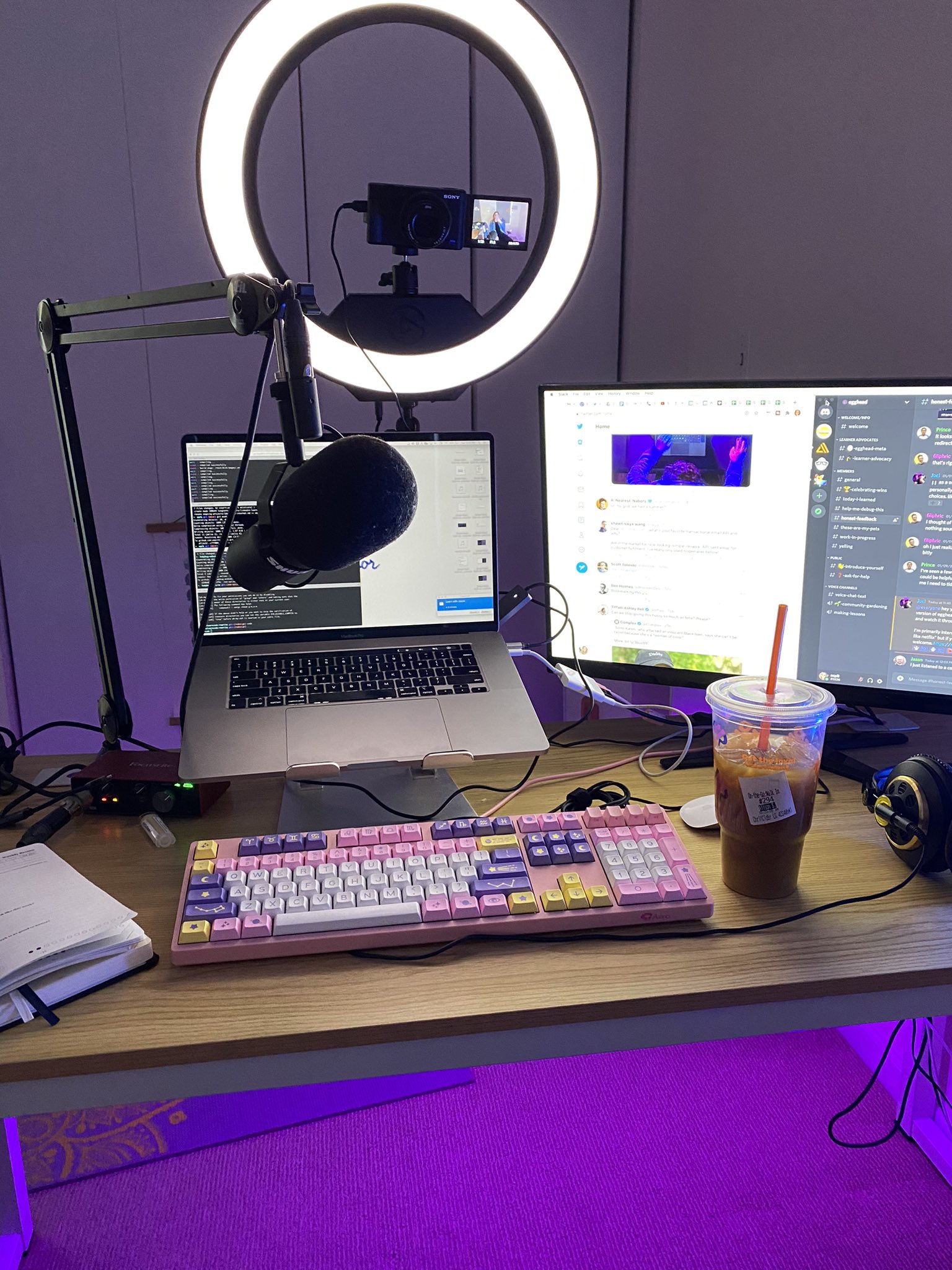 This post contains affiliate links. If you buy something through those links I may earn a small commission at no cost to you. This helps pay for the costs associated with running We Learn Code. I promise to only recommend products I use and love!
Computer
For the past ~7 years, I've used work-issued MacBook Pro's. I also have a personal one that I purchased from one of my previous employers. They aren't perfect, I'll be honest, but the UI is nice and I'm so used to them and the software that runs on them that I'm pretty stuck in my ways here. Next year, I want to upgrade my personal machine to an M1 desktop.
I use this laptop stand. It's pretty nice to have my laptop closer to eye-level and a more similar height to my monitor. This stand is reliable and does what I need it to -- I'm not sure if there's a huge difference between laptop stands though. Definitely not my area of expertise.
My monitor is similar to this Acer one. I got it nearly a decade ago on a Black Friday sale. It's dependable and does what I need it too, but it isn't anything fancy.
My keyboard is my favorite part of my setup -- it's so cute! I use this keyboard with these Astrolokeys keycaps. They match my fairyfloss VS Code setup perfectly.
I also have a Magic Mouse that I rarely use -- I normally just use my keyboard and laptop trackpad.
I also have seemingly dozens of USB to USB-C adapters. I just buy them in bulk at this point -- I don't have any that are better than others to be honest. I just buy whichever are cheap and have the number of ports I need.
Audio
My audio setup is mostly for the Ladybug Podcast, though I also use it for virtual speaking and YouTube videos. I will say this is overkill for most people, especially if you're just getting started. I started off with a Blue Snowball and moved to a Blue Yeti -- I think these are much easier to use and much more affordable.
Right now, I use a Shure SM7B with a Focusrite Scarlett Solo USB. There's also a popfilter on it and it's on a boom.
Video
I use a Sony ZV-1 for filming videos and as my webcam. I use Sony's Imaging Edge Desktop to connect my camera to my computer -- it works for video calls and streaming. Again, it isn't perfect and I wish I knew how to use it better, but it looks a ton better than my computer webcam and is pretty straightforward to use.
I use ScreenFlow for editing screen capture video and iMovie to edit face to camera stuff. That being said, Chris Enns does most of my editing, both video and the podcast. He's awesome and makes my life so much easier.
I also use OBS for streaming and recording videos. I hate the interface, but it's the only thing I've found that's full-featured and doesn't break as long as I don't mess it up.
Lighting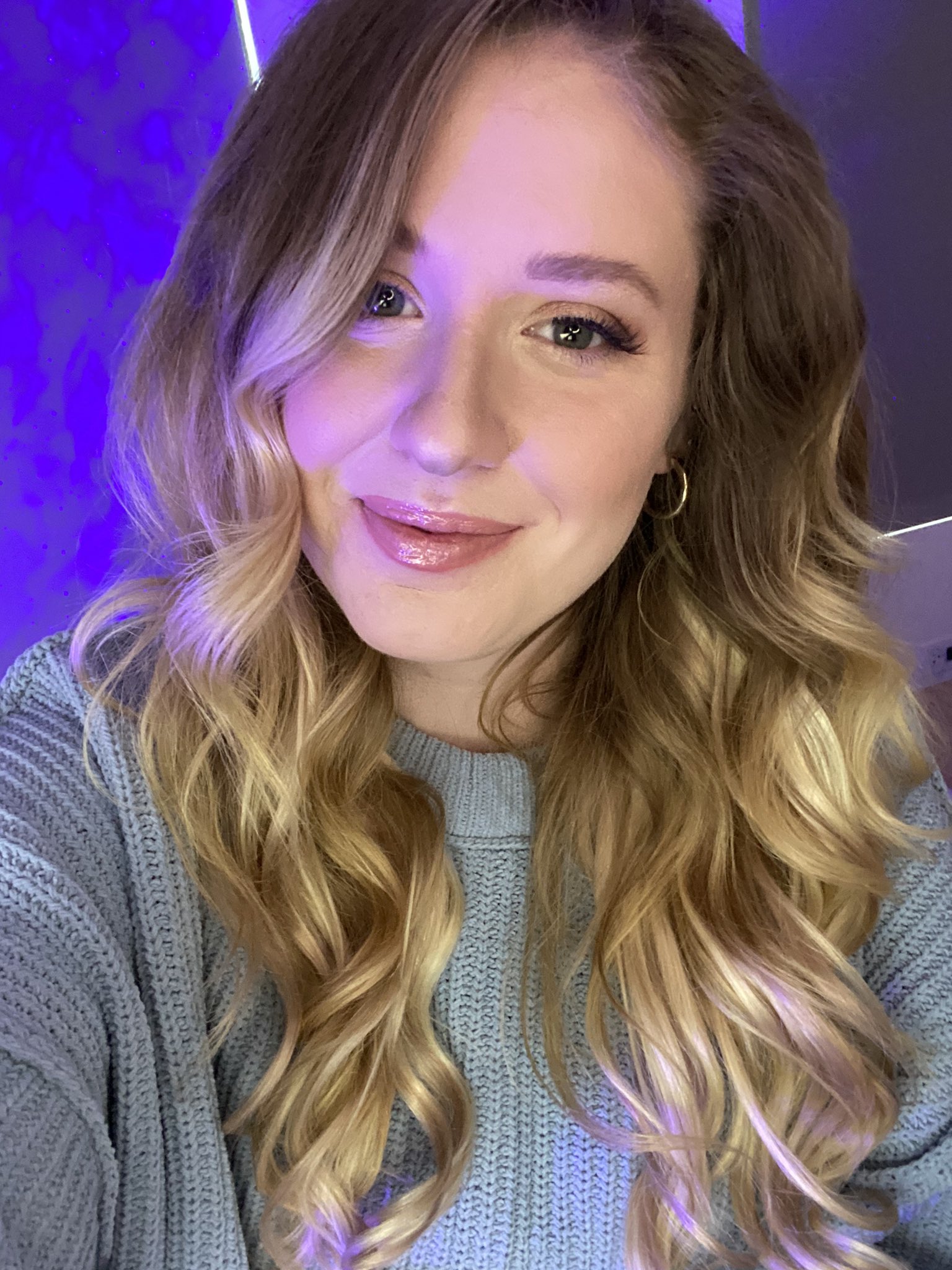 I have colored lights setup to make my background a little more interesting in videos. I use these under my desk, I usually have them set to purple. I also have this Hue light that is on my desk pointing at the wall. Finally, this galaxy light is so fun -- I usually have it pointed at the ceiling when I watch movies too.
I also have an Elgato Ring Light pointed at my face while I film -- I really like the look of having a ring light on my face when filming, and this one has a lower profile than many which helps make my office prettier!
Desk
I have two of this desk that I have put together in an L-shape. One is 55" and one is 63". I like having the extra space since I have so much gear, and I can leave books, water, and writing tools on the second table. I'll probably get a nicer one that's real wood and a little sturdier at some point, but these are a bargain (I got them on sale so they were under $100 each).
I have this Autonomous.ai chair that they gifted me. It's really comfortable, but I'll probably get something that's more aesthetically my style down the road.
Desktop Software
I use Sketch and Canva for design work, including thumbnails and visual assets for posts. I use ConvertKit for my email list. I also use Magnet for window management -- it's the first thing I install on any computer.
Other than that, I use VS Code, Google Drive, and iTerm for pretty much everything. I take notes mostly in Markdown and host them on private GitHub repositories.
Other Stuff on my Desk
I also use the BestSelf Journal as my daily and quarterly planner.
I also run on Dunkin' Iced Coffee, so you'll see that in a lot of my pictures 😀 -- I'm a New Englander through and through. I always order mine with skim milk and caramel swirl -- it's been my order for over a decade and I don't see it changing any time soon.
That's my full setup! If you have any questions, feel free to reach out via Twitter!
Be the first to know about my posts!
Share this post with a friend!